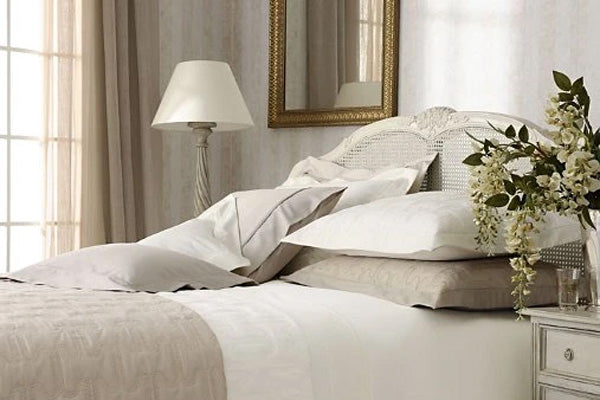 Percale and Sateen are two most prominent and preferred fabrics products purchased by large and small consumers from La'Marvel. Weaving process is differentiating therefore has its basic determent of sensory faculty that allows customers to decide their preferences. Initially, from a micro perspective the simplicity of one over one under weave created in percale forms a more lighter and airy effect to the fabric whereas sateen has weft thread woven four over one makes the fabric more smoother and shiner, much like satin. This woven style makes a huge difference in the formatting of the fabrics and their turnouts. While making one lighter and the other smoother.
Percale sheets are simpler in weave, while consisting of more matte finish and crisp hand feel features. These sheets are cooler and more breathable. They have a tighter finish compared to sateen which are silkier and used to drape. Percales are light and invigorating yet very soft and durable. They are mostly used in hotels and inns for customers to relax. However, they have a tendency to wrinkle easily. Moreover, they are prone to crinkling which means for light sleepers the white noises would cause disturbance. Furthermore, Percale sheets usually have a thread count of 250 which is found by many a sufficient count.
Sateen sheets on the contrary are more complex. With a four over one weave pattern and a ranging thread count this fabric is often silky and has lustrous drape. Unlike Percale, sateen is heavier and less breathable however, they are warmer and more cozy. Furthermore, they are less prone to wrinkling hence making it not only wrinkle resistant rather more consumer friendly, more so there is no need of ironing. A good sateen sheet has an optimal word count of 300-600. Usually Sateen sheets have a higher thread count of 600 than Percale sheet's count of 250.      
---