Layer of Comfort | Bedding Essentials & Bundles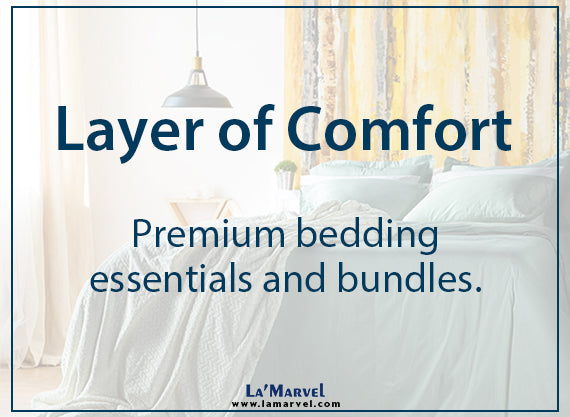 It's the 21st Century, and luxury is the most prevalent feature about it. Gone are the times when necessities were the most important part of our lives. Now most of us are looking for a comfort that matches our standard of living. A premium sleep with luxurious bedding has become the prime concern for many. No more is just a pillow and a sheet enough. 
When it comes to our own country, we prefer to have bedding sets that look flawless and make us feel weightless. Solid pillow covers are rarely preferred over plush duvet covers, unless they are white of course. An extra cushion or pillow is a preference of many. We like fitted sheets more than the regular ones since they don't shift that often and are much easier to handle.
Getting a duvet online, or a couple of bed sheets online or even a fitted sheet online is not a problem. The real problem is getting all these that are actually of the same quality and shade as well as the fabric. However, you can say goodbye to that problem, now that you're at La'Marvel.  
Our selection of premium bedding bundles or bedding sets as they are called, are your last stop to find premium bedding online. What sets our bedding apart is that each of our bundles is crafted per batch. In other words, if you get a purple striped bedding bundle, you know that your bed will look flawless and your sleep will be seamless on your bedding. Our sateen is loved throughout Dubai and that is why we are known throughout UAE.
The premium cotton along with luxurious feel to the touch means that you will get comfortable as soon as you reach your bed. Experience luxurious comfort like never before, get your bedding essentials from La'Marvel now!
---