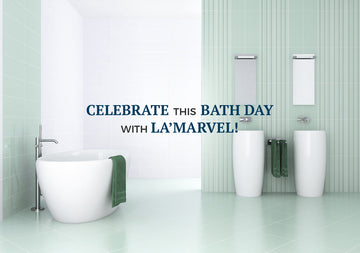 What else is better than a cozy warm bath after a long tiring day?
Agree or not but we all need it at the end of the day.
But kudos to those who actually celebrate this day every year on 14th of June.
 Having a peaceful satisfying bath actually effects your mental health a lot and improves it by releasing the dopamine. That too is necessary after a hectic day at work or home being sitting 8 hours in front of screen or losing your mental energy being home with kids. Reason may differ but we all need a satisfying bath at the end of the day to relax and re-energize our brain.
Here are some tips for you to improve your bath day this June that too with a 15% discount on our entire stock!
Humidifier:
Small bottles can actually do wonders in improving your bath. Humidifiers gives a gentle effect in air which does not only improves your mental health but also it is very good for your skin.
 Scented Candles:
Do you know candles don't have only a romantic effect at dinner tables but scented candles have the softest fragrances for you to enjoy your bath or dinner time quite nicely. It comes in different fragrances, choose your favourite and make your me-time even better.
 Customised bath towels:
Soft bath towels is all your skin is asking for, that too customised!
LA 'Marvel got the best fibre towels for your skin. We made it sure that it should not be harsh on your skin at all and absorb the water residue gently. 
You can get your favourite colour towel with any of your customised quotation. Buy it for you or your loved one now!
 Bath Bombs:
Bath bombs are literally the perfect invention for all the bath lovers.
It infuses quickly in warm water and is perfectly satisfying in every way. Get your favourite bath bombs today and make your bath time special.
Adds colour, scent and bubbles all that in one bomb!
 Bath Area:
Your bath area should be separated from your toilet. If you have both toilet and bath area in same space than make sure to keep it separated with the help of a curtain or glass so that your sight doesn't have to witness anything else while having a bath.
You should be calm and relax while bathing. Also it is very convenient to clean plastic curtain or glass just with water and any toilet liquid cleaner.
 We hope that you have a smooth, peaceful bath this bath day and don't forget to improve it
with the tips we have mentioned.
 Have a happy and healthy bath day!