Celebrate Eid-ul-Fitr With La'Marvel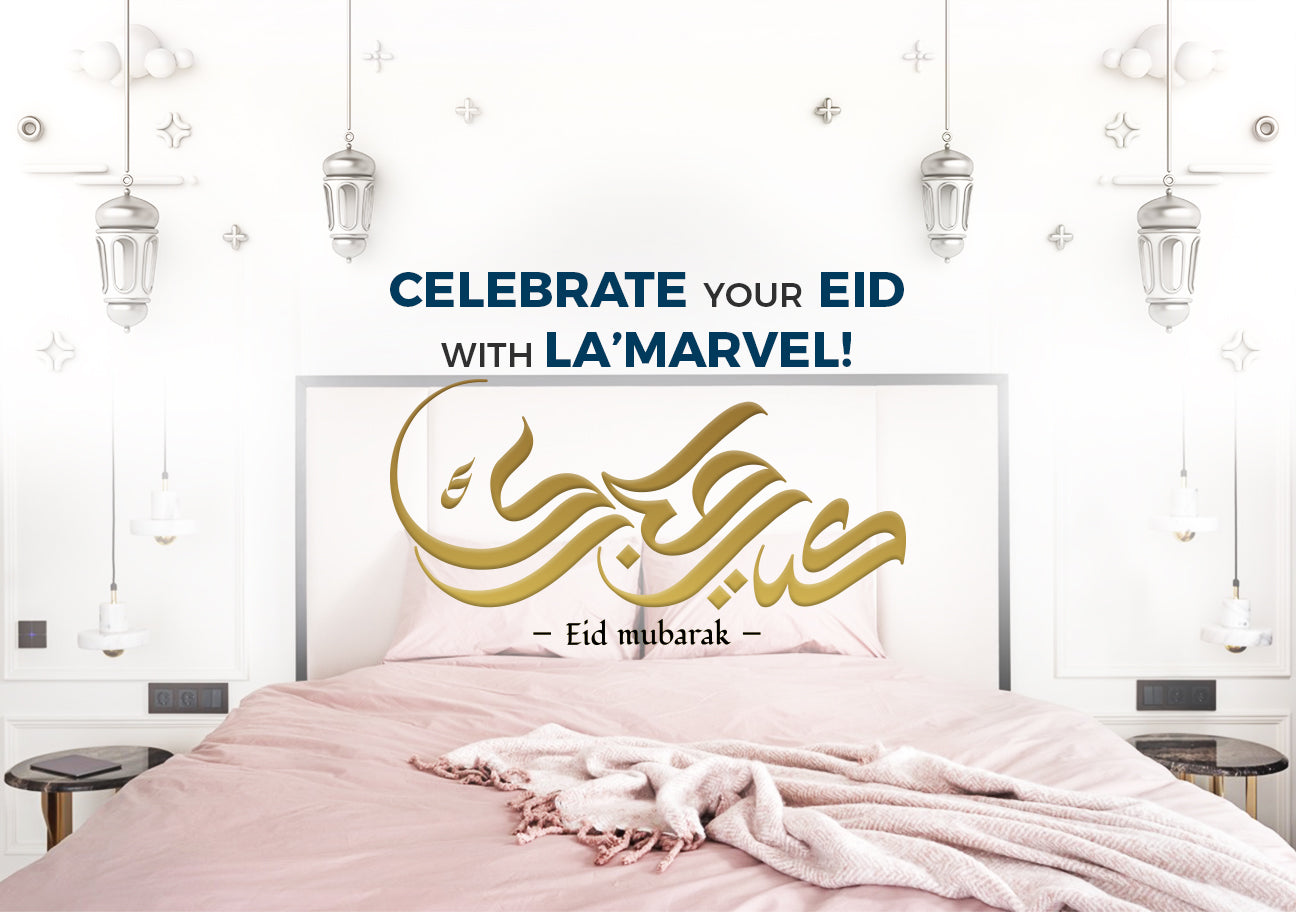 The last ten days of Ramadan are full of prayers and excitement as we are preparing for Eid-Ul-Fitr in full swing.
From new clothes to new accessories for the whole house especially kitchen and buying gifts for your friends and family, we want everything very neat and perfect because of the importance of this event.
Muslims every once a year at the end of their Fasting Month, Ramadan celebrate Eid with full zeal and happiness. On this special occasion, how can we even forget the importance and value of gifts in other people's lives as it is a solid form of portraying your love to your special ones including your family/ friends and all of the close ones. This Eid, Why not give them something unique and useful on this special occasion?
Bedsheets are one of the essential things to be used on Eid it is as important as buying new clothes on Eid. New fabrics also give your house a brand new look. So get your hands now on La'Marvel Bedsheets, Bed covers, Bedding, and Duvet cover now that too on a 35% discount !
Buy for your house or gift it to a friend and complete your Eid preps with  La'Marvel.

Also here are some tips to help you out that how you can manage to give your house a brand new perfect Eid look without spending and worrying too much.

1. Tidy up all the ignored corners which you don't follow the whole year it will also help you in making not only a cute space but also your home will feel naturally light.

2. Give your home some aesthetically pleasant look with minimal lights. You can keep it limited to the inner décor but if you want to go for extra then lighting outside the house will do them justice.
 
3. Try placing flowers on side and center tables illuminating the environment, giving it a new and fresh look. Flowers always give the environment blooming effects and uplift the mood, different flowers are a symbol of different emotions you can add flowers as per your like.

4. Now it's time for improving the frame for your outside world, yes you're thinking right, your curtains! You can have blinds for a modern-looking home but if you want to go for traditional then go with curtains that suit your overall color theme with gaudy designs.

5. Last and the most important thing is changing your fabrics. It's just like you make new dresses on Eid so why not one for your bed? Changing your bed covers, cushion covers, and pillowcases will automatically give your home a brand new and livelier look as it plays a vital role in adding to the overall theme of your room so you don't have to do major changes to change the look of your room. Get rid of that old fabric covers now.

Follow these easy home decoration tips and see how it turns out.
Celebrate Eid ul Fitr this year with new bedsheets, bedding and Duet covers that too of very good quality with 35% Discount valid till 8th May 2022
Promo Code: Eid Gift 
Also if you are considering getting a special and memorable gift for your loved ones this Eid, Why not buy them a customized towel and wish them a Happy Eid.
La'Marvel wishes you all a very Happy Eid Mubarak :) 
---